Drainage Improvements
DLB Paving provides residential and commercial paving, seal coating, and drainage
improvements throughout southern New Hampshire and the seacoast area.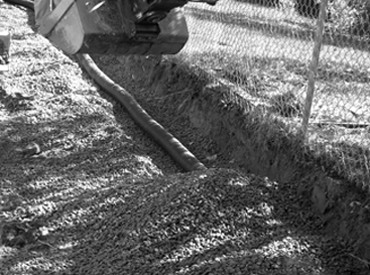 Do you ever wonder why your driveway or parking lot is just a great big puddle after a storm? The cause could be an improper grading job or landscape issues which may cause water to collect in an undesirable area.
Good drainage is the foundation to the longevity of your driveway or parking area. We survey the area to determe where the water is coming from; through careful planning and design, we engineer a solution to intercept and redirect water away from the paved area. This provides a cost-effective solution that will protect your investment from the harmful effects of standing water.
DLB Paving installs drainage systems, trenches, and culverts to divert the surface and/or subsurface water, and ensures proper grading of materials. We work closely with municipalities to meet requirements in their "right-of-way" areas while solving your needs. If water is causing damage to your driveway or parking lot, please call us today at (603) 883-5250 for a free estimate.